Surrey County, England Horse Art Directory
Page 1: Results 1-4 out of 4
► Submit Your Website To This Page
Animals Horses & Pet Portraits by Pam Reed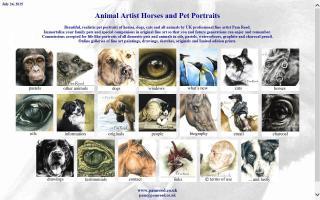 10 Bushey Shaw
Links Road
Ashtead
KT21 2HP
UKRAINE
01372 813785
07809422127
pam@pamreed.co.uk
Beautiful, realistic pet portraits of horses, dogs, cats and all animals by UK professional fine artist Pam Reed. Immortalise your family pets and special companions in original fine art so that you and future generations can enjoy and remember.
www.pamreed.co.uk/
Equine Art Company
Epsom
UNITED KINGDOM
01372 360566
gallery@equineartcompany.com
Gallery offering equestrian art limited edition prints and cards depicting thoroughbreds and racehorses in beautiful landscape settings, published from the oil paintings and pencil sketches of Brett Lohn. Subjects include greys, bays, and scenes of racehorses working on the gallops. Full online shopping facilities. Worldwide delivery a pleasure. Free brochure available.
www.equineartcompany.com/
Iberian Horse in Art, The
Sue Wingate
2 Holm Close, Woodham
Addlestone
KT15 3QN
ENGLAND
00 44 (0)1932342055
sue @the-iberina-horse-in-art.com
Equine art by Sue Wingate featuring Andalusian, Lusitano, and Lipizzaner horses. Studies and scenes in a variety of media featuring classical riding, working equitation, and stud scenes. Some original works are for sale, and most are available as limited edition prints (on canvas and paper) and greetings cards. The artist is happy to undertake commissions and sells her paintings all over the world.
www.the-iberian-horse-in-art.com/
Sandra Palme
Look in Surrey County, England for:
Find Art in: