Africa Thoroughbred Horse Farms and Stallions Directory
Page 1: Results 1-3 out of 3
► Submit Your Website To This Page
Summerhill Stud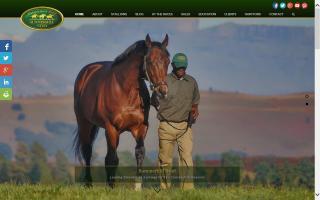 Backworth Stud
D248 Distric Road
3740 Eston KwaZulu Natal
SOUTH AFRICA
+27 (031) 700 5515
stud@backworth.co.za
Backworth Stud is a boutique Thoroughbred horse breeding establishment situated near Eston in the Southern Drakensberg, KwaZulu Natal, South Africa.
www.backworth.co.za/
David Kuit Racing Stables
Pietermaritzburg
SOUTH AFRICA
+27822115296
david@kuitracing.co.za
We are a Thoroughbred racing stable based in KZN in Ashburton. We are always looking for new owners who would like to experience the thrill of owning a racehorse. We do lease some of our horses. If you are interested, please do not hesitate to contact me.
Find Thoroughbred Horse Farms and Stallions in: