Horse Software Directory
Page 2: Results 11-20 out of 23
► Submit Your Website To This Page
TesioPower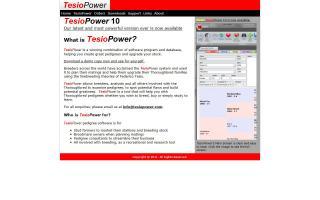 Bet Selector
CRIO Equine Software
Equine Genie
890 Gebhart Road
Windsor, PA 17366
sales@smokecreekranch.net
Equine Genie is a revolutionary equine management software system for individuals and equine business owners. Genie is the genius behind the software, always working behind the scenes learning your habits, routines, and unique needs. Manage horses, resources, inventory, supplies, and more! Ask about the "take-it-anywhere pocketgenie". Contact: Randy at Smoke Creek Ranch for more info!
www.smokecreekranch.net/software_equinegenie.html
Equineline.com
LaRaedo
Santa Monica, CA 90401
(248) 946-1245
info@laraedo.com
LaRaedo is a web-based software designed specifically for horse farms to help keep everyone informed about the maintenance of the boarded horses.
Staff and customers can have their own log in where they can upload files, attach photos, link to videos, and send notes and messages. It's an easy way to stay organized while retaining horse history.
Log in, enter information about the boarded horse and owner, and click the save button. Then start adding maintenance tasks such as monthly board, vet, or farrier visits.
All the completed billable tasks are automatically pulled into an invoice at the end of each month. Just review and click submit, and an e-mail will notify the customer of their bill.
LaRaedo can be accessed from any internet connected computer. Nothing to install; works with all computers. Get your Free 15-Day Trial at our website.
www.laraedo.com/
Lion Edge Technologies
Easy to use ranch management software. Track ID, pedigrees, & breeding, add pictures, and more. Windows and Mac OS versions available.
www.lionedge.com/
CrioCriollos
David Auston
0870 2351373
david@davidauston.net
We provide easy to use livery management software that doesn't cost the earth. We also create web sites for the equine industry.
equineIQ, Inc.
College Station, TX 77841
(877) 637-8463
customer-service@equinemax.com
EquineMax software. Easy to use horse management software designed for horse owners of all sizes. Keep up with breeding, pictures, pedigrees, treatments, performance disciplines, and more! Free trial available.
Look in All Regions for:
Find Software in: