Egypt Horse Directory
Page 1: Results 1-5 out of 5
► Submit Your Website To This Page
Happy Horse Stable


Visit Happy Horse Stable's Facebook Page
Magawish, Swiss Inn Hotel
Hurghada
EGYPT
01006201990
01001363844
info@happyhorseriding-hurghada-egypt.com
Offers to tourists and residents:
- Riding lessons
- Beach trips
- Desert Safari
- Horse and Camel riding available.
- High standard of animal welfare, friendly staff and wonderful environment.
www.happyhorseriding-hurghada.de/
Laila's Oasis Arabians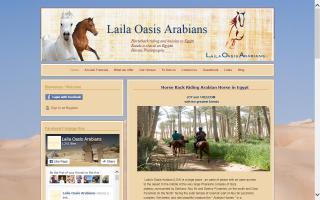 Cairo
EGYPT
012 358 7724
010 565 5005
laila.oasis@gmail.com
Enjoy the peaceful scenery and explore the desert around the Abu Sir pyramids complex in a peaceful way while riding, learning about, and training horses.
Those who do not want to ride can relax under the Bedouin tent facing the Abu Sir site or walk and visit the temple and pyramids themselves.
Children and adults are welcome for introductory rides with very quiet horses and lessons in the manege.
Overnight camping horse safaris & BBQ. For horse owners, we have boxes and two maneges available.
A quaint guesthouse is available for weekend getaways or longer - breakfast included, lunch or dinner au jour, and room service. Seating to accommodate events and parties for up to 30 people.
Training for races and breeding pure bred Arabians. Safe children's area and activities.
Guided rides for all levels - short and long distance.
Abu Sir Stable is open daily. We serve healthy beverages and snacks.
Custom trips & BBQ for groups and partie
www.lailaoasis.com/
Noorwood Shavings
1th Tahrer Street
00257 Damietta
EGYPT
002011790233
zakzook1903@yahoo.com
Noorwood shavings are a perfect choice for high quality, dust extracted horse bedding. Combining the traditional benefits of shavings with an advanced production and control process, our products are independently tested to ensure they stay an industry leader and a bedding you can trust - the first time and every time.
Produced at our own manufacturing sites, each 25kg, weatherproof bale of Noorwood shavings is vacuum packed tight with fresh, dry, softwood shavings taken directly off our production lines to give you a consistently high quality and totally natural product.
With no timber rubbish or external shavings being allowed in our bales, the demand for top performing horse bedding can sometimes exceed the supply of our high quality Noorwood shavings. As such, we have limited our distribution to a select number of stockists who ensure regular customers are well looked after.
Prestige Equestrian
Cairo
EGYPT
0020166926602
enquiries@egypthorsetours.com
Egypt horse tours. Prestige Equestrian is one of Egypt's premier stables and is situated right in the desert next to the world famous Sakkara pyramids. Our facilities offer stunning surroundings and first class service.
Prestige Equestrian gives you the opportunity to experience Egypt in a way very few people get the chance to - upon horseback.
We offer variety of tours (sun rise / sunset / hourly rides / others). From the minute you exit into the desert, you will be greeted with a panoramic view of the great pyramids of Giza, the step pyramid of Saqqara, and Abu Sir Ruins.
We have horses to suit all ability levels and an experienced groomer to accompany you in your tour.
Tour In Egypt
Giza
EGYPT
0233882510
000128594136
support@tourinegypt.net
Tour In Egypt has been operating since 2000. Mr. Belal Bahgat started the firm. We have worked in tourism for more than 10 years and built an excellent name and reputation in that field.
Tour In Egypt specializes in internal and international tours. We offer all kinds of services, including horseback riding tours.
Look in Egypt for:
Find All Categories in: