Turkey Horse Directory
Page 1: Results 1-1 out of 1
► Submit Your Website To This Page
Isa.M.Turizm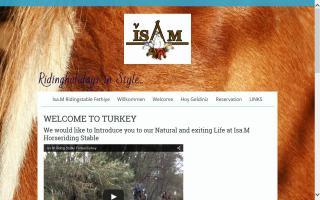 Atcilar Sokak
Yaniklar Köyü
48300 Fethiye Fethiye
TURKEY
00902526336363
00905363518540
info@isam-atbinicilik.de
Welcome at Isa.M Horse Riding Stables. Riding holidays, riding tours, and guestrooms. Horse riding holidays in Turkey, the country where East meets West. Turkey is a land full of wonder and historic sites. If you are looking for a horse riding holiday that offers great riding, great horses, and culture, then this is the destination for YOU!
Would you like to gallop at the beach?
This is your invitation for an unparalleled experience.
www.isam-atbinicilik.de/
Look in Turkey for:
Find All Categories in: