Kennebec County, Maine Horse Directory
Page 1: Results 1-10 out of 10
► Submit Your Website To This Page
Adams Horse Supplies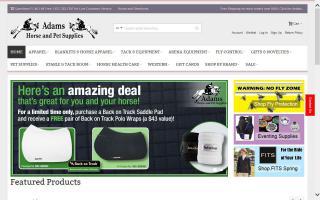 1425 Route 202
Winthrop, ME 04364
(207) 377-3236
(877) 322-7387
Free shipping on many orders over $100. A wide selection of tack and supplies.
www.adamshorsesupply.com/
Crowninshield Farm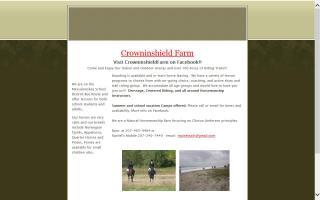 Visit Crowninshield Farm's Facebook Page
Oakland, ME 04963
(207) 465-9404
mainetrails@gmail.com
We offer equestrian lessons, training, boarding, and indoor & outdoor arenas. Very gentle horses. Miles of trails and a round pen. We utilize natural horsemanship techniques and offer training lessons as well as equitation. Just 5 minutes off I-95 with easy access.
sites.google.com/site/crowninshieldfarm/
Meadow View Equestrian Center
Upper Pond Stables
147 Upper Pond Road
Litchfield, ME 04350
(207) 485-1745
meadowmist1@roadrunner.com
Full service boarding stable on 25 acres. 100 x 200 outdoor arena and 70 x 120 indoor arena. Cross country and stadium jumping available. Trails nearby. 12 x 12 matted box stalls. Hay 4 times daily. All day turnout in large paddocks. "No better care anywhere!"
www.upperpondstables.com/
Atlantic Horse Carriers, LLC
Mt Vernon, ME 04352
(207) 590-7510
(781) 858-1073
horsemover@gmail.com
We are a professional transport company. We provide service for 48 states. We are a small and personalized company. We provide exclusive care for horse while transporting. Box stalls available. We stop every 4-5 hours to rest the horses, feed, and water. We have a video monitoring system. We are available 24/7 by cell while on the road. Like us on Facebook and Twitter. We have over 40 years' combined experience with horses. We also do shows. We have two drivers at all times to insure the safest and fastest transport for your horse. We are family owned and operated. We are horse people providing a service to horse people. Thank you.
Bob's Old House Restoration
EquiNine
Weeks Mills, ME 04358
(207) 592-3440
info@equininetraining.com
Offering complete training for horse and rider and obedience training for dog and owner. Clinics, roundpen rallies, and travel training available.
Natural Equine Living
Monmouth, ME 04259
(207) 441-5071
blazingstarstables1@hotmail.com
Welcome to a place that is truly magical and stress free. Boarding, training, communications, lessons, and camps are all here! Call today!
Serenity Mountain Stables
Look in Kennebec County, Maine for:
Find All Categories in: