Hampshire County, Massachusetts Horse Directory
Page 1: Results 1-10 out of 11
► Submit Your Website To This Page
Domnarski Farm, The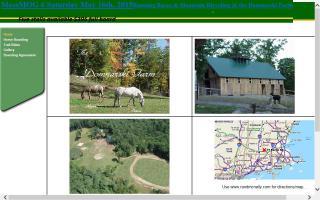 High Horse Hill - Therapeutic Horsemanship for All Ages
139 Arthur Pease Road
Middlefield, MA 01243
(413) 961-9311
Our mission is to heal with horses through safely experiencing all phases of natural horsemanship, including leading, grooming, groundwork, games, riding, and equine education.
www.highhorsehill.com/
King Oak Farm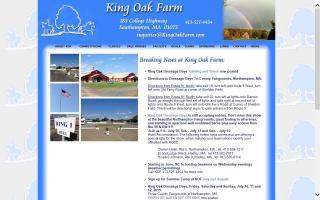 Legacy Farm


Visit Legacy Farm's Facebook Page
26 Strong Street
Easthampton, MA 01027
(413) 923-4347
raucher6@charter.net
Legacy Farm in Easthampton has openings for full or rough board. Daily turnout, individualized care, indoor arena, outdoor riding ring, run in shelters, and short ride on road to trails.
Professional instruction available on your horse or ours. Whether you are a first time rider or want to improve your show ring performance, our instructors have the skills and experience to help you reach your goals! Come visit our farm, meet our horses and people, and see for yourself if we are the "Right Fit" for you.
www.gazettenet.com/living/7728147-95/photo-gallery-a-closer-look-at-legacy-farm-in-easthampton
White Loaf Farm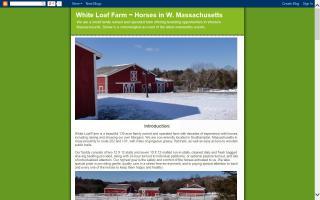 32 White Loaf Road
Southampton, MA 01073
whiteloaffarm@hotmail.com
Experience quality care for your horse or pony. Enjoy our country setting while riding in a large 120' X 180' fenced riding ring recently filled and groomed with a sand/clay mix and seeded, nine large connecting fields, miles of groomed trails, nearby dirt roads, or rails for trails. Whether you wish to show or enjoy your companion, we have the place for you.
This is a safe, dry, well ventilated, and insulated barn with high ceilings and plenty of storage area. Electric outlets are outside each stall; running water is available. There are saddle racks, bridle hangers, optional fans, designated tack areas with 4+ cross tie grooming areas, and an outside washing area. Contact us for a tour.
whiteloaffarm.blogspot.com/
Willow Bend Publishing


Visit Willow Bend Publishing's Facebook Page
P.O. Box 304
Goshen, MA 01032
(413) 268-3461
info@willowbendpublishing.com
Award-winning Morgan horse books.
www.willowbendpublishing.com/
Full Of Grace Farm
105 Stockbridge Rd
Hadley, MA 01035
(413) 695-0470
fullofgracefarm@gmail.com
Full Of Grace Farm, located in scenic Hadley, MA, is a small women run, non-profit boarding and lesson facility providing Equine Assisted Psychotherapy. Using our equine friends as partners, Full Of Grace Farm hopes to promote the healing and recovery of women and children in a non-threatening and safe space. Mission Statement: We believe each client possesses their own answers. Full Of Grace Farm and "Healing through Horses" provides a safe environment which guides clients towards healing.
www.fullofgracefarm.org/
Tintagel Enterprises, Ltd.
80 Easthampton Road
Westhampton, MA
a full service facility. Breeds exquisite Andalusian horses for sale. We offer dressage lessons, breaking and training the young horse, holistic rehabilitation and trick trained horses for media promotions. We stand two Andalusian stallions at stud, a black and a chestnut, and offer complete breeding services.
www.tintagelandalusians.com/
Greene Acres Equestrian Center
Belchertown, MA 01007
(413) 246-8190
amanda.greeneacres@verizon.net
A family owned and operated stable located upon 13 acres of green pasture in Belchertown, Massachusetts. Lessons include a variety of disciplines including western pleasure, English. Safety is our number one concern. We also offer boarding, which includes daily turnout, acres of pasture, and miles of trails, which are easily accessible from the property. A 70x120 indoor riding ring under construction. Consider making Greene Acres Equestrian Center home for your horse.
Equine Dentistry:
Floating means to smooth or contour your horse's teeth with a file (called a "float"). Unlike your own teeth, your horse's teeth keep growing. At times, your horse's teeth may develop sharp edges, making it difficult for her to chew food, hold a bit, or simply have pain and discomfort inside there mouth.
It is my job to balance and correct abnormalities in your horse teeth to make them as comfortable and as functional as possible.
Lazy B Acres Sporthorses - LBA
Look in Hampshire County, Massachusetts for:
Find All Categories in: