Antrim County, Michigan Horse Directory
Page 1: Results 1-3 out of 3
► Submit Your Website To This Page
Alpha Mare Equine Art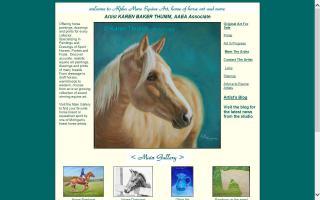 6895 Crystal Springs Rd
Bellaire, MI 49615
(231) 377-7232
karen@equineartist.com
Fine equestrian art for any collector by award winning artist, Karen Baker Thumm. Specializing in sport horses and the English sporting world in paintings, drawings, and prints.
www.equineartist.com/
Eye For Animals
Eye For Animals
Central Lake, MI 49622
(231) 544-6084
eyeforanimals@yahoo.com
Horse and dog show photography throughout the Great Lakes states. Fine, fun photographic art for business or personal enjoyment. This is a detailed gallery viewing/sales site.
Look in Antrim County, Michigan for:
Find All Categories in: