Caldwell County, North Carolina Horse Directory
Page 1: Results 1-3 out of 3
► Submit Your Website To This Page
Blue Honey Friesians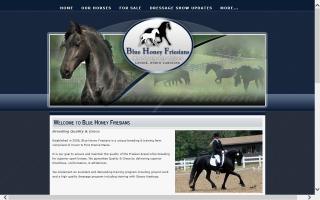 Visit Blue Honey Friesians' Facebook Page
28 Meandering Way
Granite Falls, NC 28630
(828) 238-7547
guerra.farm@gmail.com
It is our goal to ensure and maintain the quality of the Friesian breed while breeding for superior sport horses. We will do this by carefully selecting and matching our mares with the most superior and complimentary stallions. With a strong background and degree in equine genetics, we are dedicated to formulating a breeding program geared to decrease inbreeding and furthermore preserve the Friesian breed for generations to come.
bluehoneyfriesians.weebly.com/
Creek Side Stables
4338 Calico Rd
Lenoir, NC 28645
(828) 754-2111
(828) 499-6292
creeksidestables@charter.net
Creek Side Stables is a family owned and operated full service horse boarding facility offering 24 hour, top quality care for your horses. Our horse stables consist of 28 acres with 3 barns with a total of 18 stalls, 2 round pens, an outdoor riding arena, and tack sales on the premises.
www.creeksidestables.biz/
Blue Ridge Horseman's Association - BRHA
Lenoir, NC 28645
(828) 758-5528
(828) 217-0173
triplecccfarm@aol.com
BRHA operates the Anita-Alta BRHA Youth & Horse Camp, a 375 acre camping park adjacent to Boone's Fork Recreation Park. Horse trails are well marked, and trail maps are available. We offer hot showers, picnic pavilions, creek side camping, and lots of fantastic trails. We also have cabins and a tent camping area. A fishing pond is also located on the property; bring your fishing rod! We welcome 4 H groups as well as other horse clubs or individuals! Come and visit Caldwell County's hidden gem! Currently (July 2010), the parking fee is $3.00 per day.
Our camp phone # is: (828) 758-5528
Come and ride with us!!!
Look in Caldwell County, North Carolina for:
Find All Categories in: