Stanly County, North Carolina Horse Directory
Page 1: Results 1-2 out of 2
► Submit Your Website To This Page
Bear Creek Mobile Veterinary Services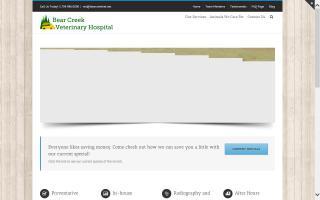 Visit Bear Creek Mobile Veterinary Services' Facebook Page
20492 NC 73 Hwy
Albemarle, NC 28001
(704) 986-0000
vet@bearcreekvet.net
We are a large animal practice that is predominantly mobile. Our focus is on the treatment and well-being of horses, cows, goats, sheep, llamas, alpacas, and pet pigs. We cover all or most of Stanly, Anson, Union, Cabarrus, and Rowan counties.
www.bearcreekvet.net/
Giddey Up Horseshoeing
9374 Webb Rd
Stanfield, NC 28163
(704) 888-3313
ncdodgeman20@yahoo.com
Certified Farrier
Michael Howie
Hi to all horse owners. I am a certified farrier. I have 6 years' experience shoeing on my own. I did an apprentice with Mike Greene and Ryan Hinson for about 3 years on and off. But this year (2010), I have lost a few clients due to the economy, and with the holidays right around the corner, I have decided to lower my prices for new clients. I am willing to work with those who are struggling through these hard times for the care of their horse(s), so give me a call to talk about pricing and set up a schedule today.
Thanks,
Mike
Look in Stanly County, North Carolina for:
Find All Categories in: