Lake County, Ohio Horse Directory
Page 1: Results 1-8 out of 8
► Submit Your Website To This Page
At The Barn Tack and More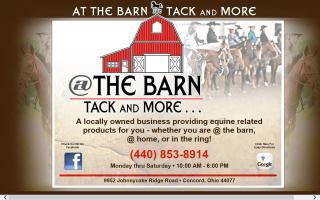 Visit At The Barn Tack and More's Facebook Page
9952 Johnnycake Ridge Road
Concord, OH 44077
(440) 853-8914
atthebarntack@yahoo.com
At The Barn Tack and More is a locally owned business providing equine related products for you whether you are at the barn, at home, or in the ring. Retail location.
www.atthebarntack.com/
Dempsey Training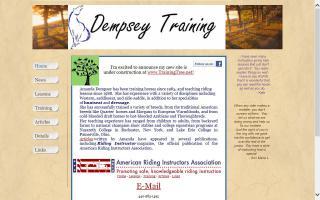 299 River St
Madison, OH 44057
(440) 983-1495
AmandaDempsey@DempseyTraining.com
Kind, quality training for you and your horse. Specializing in young horses and problem horses. Certified by ARIA for dressage and huntseat, as well as basic horsemanship in any style saddle. Free first consultation!
www.dempseytraining.com/
MayPine Farm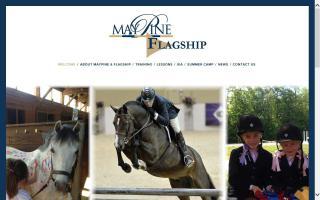 32700 White Road
Willoughby Hills, OH 44092
(216) 695-0604
dbass@maypinefarm.com
Maypine Farm is a national/international hunter-jumper show and school stable devoted to quality horses, riders, and staff managed in a professional and ethical environment.
www.maypinefarm.com/
MRC Stables
10817 Sperry Road
Kirtland, OH 44094
(440) 478-8415
mrcstables@roadrunner.com
Lease a stall at MRC Stables.
**two stalls open as of 9-1-15**
You and your horse will experience:
- Safe, non competitive horsemnship
- Extremely reasonable rates
- 24 hours a day, 7 days a week detailed attention
- Quality, on time feeding: 4 times a day + pasture, 365 days a year
- Daily turn out: all weather paddock, arena turnout for in-clement
- Walk to beautiful trails: Lake Metroparks, Holden Arboretum, & EBTA
- Friendly, family, non-competitive atmosphere; club opportunities
- Two on-site qualified trainers / coaches with decades of experience
- Daily stall cleaning
- Indoor / outdoor arenas
- Consistency; owners / operators
- Stable Boarders: very little turnover, experience why horses and friends stay here
- Great horses available to lease & for lessons
- Summer and holiday camps, dates on website
www.mrcstables.weebly.com/
Clover Springs Farm
Madison, OH 44057
(440) 522-0732
admin@cloverspringsfarm.net
Clover Springs Farm offers English & western riding lessons, as well as summer camp programs, horse boarding facilities, equine training, and horses for sale.
Graystone / Dorchester Farms
Lake Erie College - Equestrian Center
Concord Township, OH
(440) 375-8000
Equine Studies Program.
Pferd Stables
Look in Lake County, Ohio for:
Find All Categories in: