Northampton County, Pennsylvania Horse Directory
Page 1: Results 1-6 out of 6
► Submit Your Website To This Page
Balliet & Associates


Visit Balliet & Associates' Facebook Page
4413 Cherryville Rd
Northampton, PA 18067
(610) 262-3203
ballietandassc@verizon.net
We are a large animal, ambulatory veterinary clinic. With over 30 years of experience, we will deliver quality, compassionate care. We see scheduled appointments Monday-Friday and some Saturdays. We treat emergencies 24/7! Animals treated include: horses, sheep, goats, alpacas, llamas, pot-bellied pigs, cows, and farm raised white-tailed deer. We also see dogs and cats for Acupuncture treatments (and all of the other animals listed as well).
www.ballietandassc.com/
Magnolias & Snowbirds Classic Arabians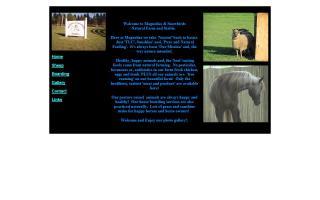 Pen Argyl, PA 18072
Magnolias and Snowbirds fine equine art offers functional, beautiful handmade tack and jewelry for the sophisticated horse lover. Our whips are amazing; studded with semi precious stones, they are designed to be perfectly balanced. Visit our website and check out our saddle pads, horseshoes, and other offerings.
www.magandsnow.com/
Online Equine Supplies Western Trail Riding
695 Snowhill Road
Northhampton, PA 18067
(844) 285-8255
onlineequinesupplies@gmail.com
Western trail riding resource and tack shop with equipment, supplies, and tack for riders and their horses. After over 30 successful years of supplying equestrians with all their horse and barn needs, we are excited to offer our valued customers the convenience of shopping online for their horse tack, trail riding equipment, and barn supplies.
oestrailriding.com/
Diamond Hill Equestrian Center
Walnutport, PA 18088
(484) 602-0010
DiamondHillEquestrianCenter@yahoo.com
Diamond Hill offers riding lessons in hunter/jumper/equitation for beginner thru advanced riders. We offer full care board as well as training board, consignment board, and lay-ups. Our facility includes a large outdoor ring with a full jump course, an indoor ring with mirrors, jumps, and dust free footing, a heated viewing area, a 24 stall barn with tack rooms and a wash stall, ample parking, etc. We offer pastures for private turnout or small group turnout.
Platz Equine Instruction
Holland, PA 18966
(215) 290-8146
CSPlatz@yahoo.com
Offering quality riding instruction for all ages and levels. We offer english and western lessons including hunt seat, dressage, saddle seat and western.
Your Grateful Horse
Pen Argyl, PA 18072
pnygal@ptd.net
Bodywork techniques and unique products for the high performance horse. Your Grateful Horse is dedicated to teaching horse owners through DVD's, workshops, and video clips of how to get PEAK performance from their horses. Easy techniques and unique cutting edge products allow horses to function under saddle without the traditional binding that ill fitting equipment causes.
Look in Northampton County, Pennsylvania for:
Find All Categories in: