Unionville, Tennessee Horse Directory
Page 1: Results 1-2 out of 2
► Submit Your Website To This Page
Aelindalen Equine Training and Teaching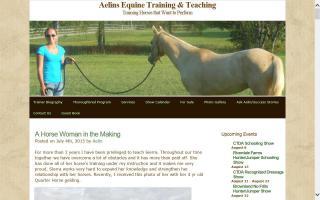 Visit Aelindalen Equine Training and Teaching's Facebook Page
1035 Kingdom Rd
Unionville, TN 37180
(615) 427-3383
(802) 274-6452
john@cedarspringstn.com
www.aelinsequine.com/
Cedar Springs Farm
Unionville, TN 37180
(615) 427-3383
john@cedarspringstn.com
Horse boarding in a quiet setting and training.
A beautiful barn located in quiet Rover, TN. Full care and pasture board available along with training and lessons in multiple disciplines. We take in all breeds from Thoroughbreds to TWH to Arabians to Mustangs and everything in between. We pride ourselves on our care for our horses from keeping up with deworming, farrier, vaccinations, etc.
Miles of trails from half an hour long to all day rides.
We have a quiet family atmosphere with clients of all ages.
Call John for more information at (615) 427-3383 or email.
Also, visit our trainer's website: http://aelinsequinetraining.webs.com/
Look in Unionville, Tennessee for: