Equine Marketing Directory
Page 3: Results 21-30 out of 51
► Submit Your Website To This Page
Stable Express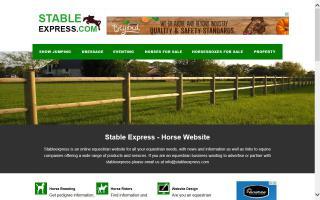 Visit Stable Express' Facebook Page
28 Barns Lane
Walsall
WS4 1HE
UNITED KINGDOM
07762 364883
r1hvy@yahoo.co.uk
Stable Express is an equestrian resources site offering services and products to our customers. We offer industry specific web design and internet marketing including search engine optimisation, email campaigns, social media, and much more. We offer free equine classifieds for horses, horse boxes, and tack. We discuss equestrian health issues and offer free consultation on menage construction, equestrian security, custom horseboxes, and more.
www.stableexpress.com/
Susan McAdoo Photography & Tobruk Video Productions / Tobruk Trailers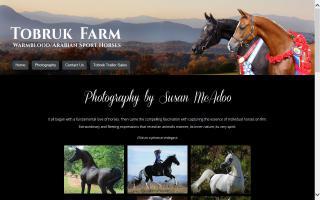 950 Hwy 113
White Pine, TN 37890
(865) 397-8304
tobrukfarm@charter.net
The photography of Susan McAdoo. Specializing in photographing Arabian horses as well as other breeds. Also video production and trailer sales.
www.mcadoophotos.com/
Abbeyview Equine
Diamond D Graphics
34423 L Avenue
Adel, IA 50003
(877) 734-2724
(515) 238-9314
info@diamonddgraphics.com
A full service equine marketing company offering web site design, ad layout and design, business cards, stallion flyers, brochures, horse directories, and photography.
www.diamonddgraphics.com/
Dusty Perin
Rte 109
Acton, ME 04001
dustyperin@metrocast.net
Horse sales photos and free listing service for clients. Photo days at your barn. Image packages for your equine website. Direct sales of horse books and posters, both retail and wholesale. Over 20 years of experience in the equine publishing industry.
www.dustyperin.com/
Equine and Country Marketing
3627 Stearns Park Road
Valrico, FL 33596
(813) 842-2701
michelle@equineandcountry.com
We are a print, design, web development, and marketing company that concentrates on the equine industry. Owned and operated by lifelong horse owners and riders, EquineandCountry.com knows the equine industry and how to market your horse, tack shop, or even sell your old equipment.
Why go with a design company that doesn't know anything about the equine industry when you can go with a reputable company that has dealt with horses their entire lives.
We offer business cards, postcards, flyers, pocket folders, banners, website design, web marketing, and all other services you'll need to get a jumpstart on your marketing campaign.
www.equineandcountry.com/
Equine Connections
Equine Originals
Equine Services
MTW Foto
Dorfstrasse 21
24975 Gremmerup SSH
GERMANY
494634936611
webmaster@mtw-pferde.com
Equine marketing services. If you are looking for a qualified German dressage or show jumping horse, we can provide you with a pre-selected list of high quality horses with photos and videos. Talk to us, and we will help you to find your dream horse.
www.mtw-pferde.com/
Look in All Regions for:
Find Equine Marketing in: