United States Farriers and Blacksmiths Directory
Page 1: Results 1-10 out of 348
► Submit Your Website To This Page
eFarriers.com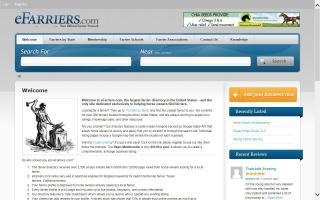 943 SW Elmonica Pl
Beaverton, OR 97006
eFarriers.com is a website connecting horse owners with certified and professional farriers. Our network includes a variety of local farriers providing professional farrier services, such as barefoot or natural trims, hot & cold shoeing, corrective trimming and shoeing, therapeutic hoof care, and much more.
www.efarriers.com/
Michael Sarno Farrier Service / Global Farrier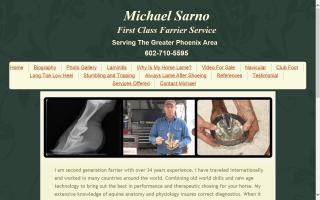 A N Shoeing
4086 State Route 557
Millersburg, OH 44654
(330) 893-4140
Shoeing of all horses. Can't make it to our shop? We can come to you with a road ready farrier service.
A Natural Hoof, LLC


Visit A Natural Hoof, LLC's Facebook Page
206 Cherry Street
Mount Carmel, TN 37645
(423) 276-6791
(423) 963-7658
anaturalhoof@gmail.com
A Natural Hoof, LLC offers natural hoof care services including shoe removal, barefoot trimming, and boot fitting in the Sullivan County, Hawkins County, and surrounding area of Northeast Tennessee. Call us today to schedule an appointment.
www.anaturalhoof.com/
A Sound Horse Farrier and Trainer
PO Box 503
Accord, NY 12404
(845) 750-1873
asoundhorseman@yahoo.com
Providing horseshoeing services, farrier care services, blacksmith services, horse training, and consultations.
Alexander Farrier Service
New Caney, TX 77357
(936) 828-7781
ja.1968@yahoo.com
Professional, dependable hoof care for your horse.
Appalachian Farrier Services
Caney Fork
Marshall, NC 28753
(828) 649-3130
(828) 206-2970
crosslink5858@yahoo.com
Advanced farrier certification. All farrier services offered.
Armour Horseshoeing Service LLC
4081 E Rollins Rd
Tucson, AZ 85739
(520) 404-0882
darmour01@msn.com
- Full service farrier
- Trail, performance, & draft horses
- EES Graduate/Certified (1992)
- 20 years shoeing experience
- Serving Tucson, AZ, and surrounding areas
- Email, call, or text for more information or an appointment.
- Reasonable rates!
ASAP Farriers & Blacksmith
Clarkrange, TN 38553
(931) 397-9254
asapfarriersjon@yahoo.com
Certified Journeyman Farrier. I will handle all your farrier needs; specializing in laminitis, founder, navicular, and natural barefoot horses. Will provide references to all worked performed. We handle your horse with a totally different mindset and work each horse through its own set of problems. Will break young colts in, too - identifying trimming and shoeing needs. We keep records on all worked performed for future needs. 100% satisfaction guaranteed.
Avisar Veterinary Services
P.O. Box 14225
San Luis Obispo, CA 93401
(805) 541-2821
yavisar@charter.net
Equine podiatry and dentistry.