San Bernardino County, California Horse Transportation Directory
Page 1: Results 1-2 out of 2
► Submit Your Website To This Page
AC Equine Xpress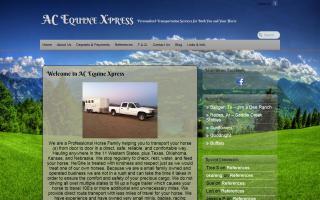 Phelan, CA 92371
(951) 318-2275
ACEquine@yahoo.com
We are a professional horse family offering direct route transportation for your horse anywhere in California, Arizona, Nevada, or Utah. Direct route transportation provides less travel time and stress for your horse. We offer Xpress personalized, safe, reliable, and worry free transportation for your horse. We have Xtra large stalls so we can haul the smallest mini up to large draft horses. Email us today for a FREE quote!
www.acequinexpress.com/
TNT Training Center
Phelan, CA 92329
(951) 318-2275
TNTTraining@sbcglobal.net
For all your equestrian needs! We are dedicated to help you have the most fun you have ever had with your horse. You will also learn how to solve problems and be safe! We use gentle non-resistance training methods...