Butler County, Ohio Horse Stables and Horse Farms Directory
Page 1: Results 1-7 out of 7
► Submit Your Website To This Page
BayStar EquiCenter, LLC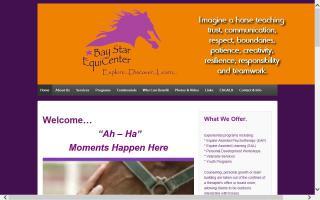 Visit BayStar EquiCenter, LLC's Facebook Page
PO Box 10
Shandon, OH 45063
(513) 738-4463
Info@BayStarEquiCenter.com
Horses are Amazing!!! Equine Assisted Psychotherapy (EAP) and Equine Assisted Learning (EAL) can guide people to:
Explore Possibilities... Discover Solutions.... and Learn Skills...
A session with our horses can provide surprisingly rapid results. Our staff is EAGALA (Equine Assisted Growth and Learning Association) trained and certified, and we adhere to the ethics and high standards therein.
BayStar EquiCenter provides a secure, respectful, and inspiring setting offering innovative solutions for those seeking new insights and positive life changes.
Experience the peace and tranquility of our quiet county setting while allowing our horses to help transform and define you.
Offering unique experiences, our clients are empowered to find their own solutions through interaction with our horses. Fun activities, individually tailored for each session will bring about "Ah Ha" moments. IMAGINE what yours might be!
This is not about riding or horsemanship. All activities are done with your feet firmly planted on the ground. Be prepared to take home a little mud or horse hair.
We provide Equine Assisted Psychotherapy (EAP), Equine Assisted Learning (EAL), and Professional and Personal Growth Workshops for individuals, children, families, couples, groups, and corporations.
We are certified with the Equine Assisted Growth and Learning Association (EAGALA) and adhere to the EAGALA model.
www.baystarequicenter.com/
Baystar Stables
Hamilton, OH 45013
(513) 738-4363
Baystar Stables is a small, drama free, low-key 25 acre 15 stall boarding facility located in Shandon, Ohio. We are about 10 minutes from Miami Whitewater and 30 minutes from Hueston Woods.
Some of our amenities include:
- daily turnout
- 200 x 75 lighted outdoor sand arena
- 64 x 54 indoor arena
Full care is $300/ month. Partial care or discount for barn help is available to the right person.
C 'Em Walkin Ranch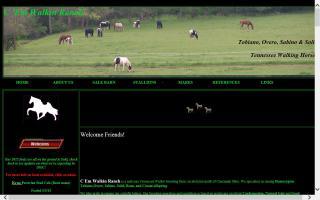 Hamilton, OH 45013
(513) 518-7587
michelle@cemwalkinranch.net
C 'Em Walkin Ranch is a mid-size Tennessee Walker breeding farm, located just north of Cincinnati, Ohio. We specialize in raising homozygous tobiano, sabino, solid, roan, and champagne offspring.
We take pride in raising our colorful colts. Our breeding operation and reputation is based on producing excellent conformation, natural gait, and good disposition! We really strive to keep quality in this excellent breed. Color is a pretty feature, but we believe it's more important to have the right conformation and a good natural gait. Our colts are a pleasure to be around and are worked with and handled daily. They are started right with 100% trust in people. Check out our great reference page! Webcams available 24 hours.
www.cemwalkinranch.net/
Equestrian Paradise / Western Ohio Youth Rodeo Association - WOYRA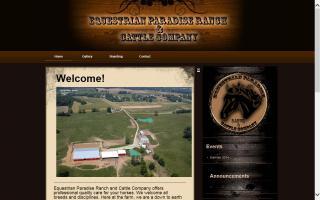 LB Ranch
P.O. Box 300
Monroe, OH 45050
(513) 405-6562
Lawrence Bishop Quarter Horses and Paints. Horses for sale. Exporting worldwide.
www.lbranch.com/
TnB AraAppaloosas
Galerie Farm
Hamilton, OH 45011
(513) 886-2288
(513) 886-2289
The Galerie Farm Annex is home to Tees Legacy, Quarter Horse stallion. He is 16.3 hands tall and dark bay. He is a grand champion from the 2006 limited division aged stallion class. He was reserve champion in the aged stallion class.
This location is on 88 acres of land with a full laboratory and two full time veterinarians who are in charge of the hospitalizations, breeding program, embryo transfers, insemination in house, and many other aspects of the facility. The Annex is compiled of mainly halter horses, and we have weanling, yearling, and aged mares and geldings from several Congress and World Show mares. Most of the mares are now bred to Tees Legacy for next year's foal crop. Our show barn consists of several of his offspring with more to come in the next few months. We have done artificial insemination to breed all of the mares.
Our riding facility is located on 15 acres of land with 8 turn out pastures and paddocks with a round pen for exercise.
Look in Butler County, Ohio for:
Find Stables and Horse Farms in: