Mangalarga Marchador Organizations Directory
Page 1: Results 1-2 out of 2
► Submit Your Website To This Page
Associacao Brasileira dos Criadores do Cavalo Mangalarga Marchador - ABCCMM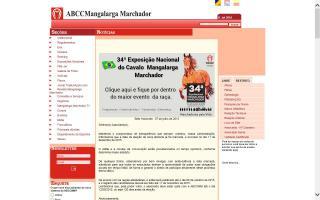 US Mangalarga Marchador Association - USMMA
Scottsdale, AZ 85262
(480) 595-2559
info@usmarchador.com
The US Mangalarga Marchador Association and registry provides an official information site for all North American Mangalarga Marchador horses, owners, and breeders. The USMMA is affiliated with the Associacao Brasileira dos Criadores do Cavalo Mangalarga Marchador (ABCCMM), the Brazilian organization founded to preserve, regulate, and register the unique bloodlines of this magnificent breed. In Brazil, Mangalarga Marchadors must pass rigid standards for conformation, gait, performance, and endurance. In many cases, the Marchador horses in North America maintain dual registry with the ABCCMM in Brazil.
The Mangalarga Marchador is the national horse of Brazil, but it's rare in the U.S. Of ancient Iberian heritage, it's named for its smooth ambling gait, the "marcha". Horsemen also prize its versatility and disposition.
The USMMA, working with breeders in many states, is intent on promoting this wonderful breed. To obtain more information, please visit our website.
Find Mangalarga Marchador Organizations in: